MYRICETIN
Synonyms.
Myricetin;
Myricetol; 3,3',4',5,5',7-Hexahydroxyflavone; 3,5,7,3',4',5'-Hexahydroxyflavone; 3,5,7-Trihydroxy-2-(3,4,5-trihydroxyphenyl)-4H-1-benzopyran-4-one; Cannabiscetin; 3,3',4,4',5',7- Hexahydro- 2-phenyl-4H-chromen-4-one;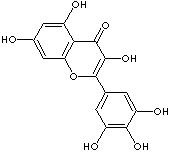 PRODUCT IDENTIFICATION

CAS RN

529-44-2

EINECS RN

208-463-2

FORMULA

C15H10O8

MOLE WEIGHT

318.24

H.S. CODE

2932.99.6100

SMILES

c12c(c(c(O)c(o1)c1cc(c(O)c(c1)O)O)=O)c(cc(c2)O)O

CLASSIFICATION

Flavonoid, Flavonol

EXTRA NOTES

Luteolin analogue. Protein kinase inhibitor. Myricetin (3,3',4',5,5',7-Hexahydroxyflavone), Morin (2',3,4',5,7-pentahydroxyflavone), Fisetin (3,3',4',7-Tetrahydroxyflavone) are naturally-occurring flavonoids. They have antioxidant properties which protect cells against oxygen radical damage. They are also reported inhibit xanthine oxidase, a free-radical generating enzyme and show and inhibit the oxidation of LDL (low density lipoprotein) by free radicals.
Biochem/physiol Actions: Strongly inhibits yeast alpha-glucosidase, glyoxalase I in vitro, and bovine milk xanthine oxidase. Promotes complex formation between DNA and both topoisomerase I and II, an effect that may have implications in cancer chemotherapy.
PHYSICAL AND CHEMICAL PROPERTIES

PHYSICAL STATE

yellow to green powder

MELTING POINT

357 C

BOILING POINT

DENSITY

SOLUBILITY IN WATER

SOLVENT SOLUBILITY

pH

VAPOR DENSITY

REFRACTIVE INDEX

FLASH POINT
STABILITY AND REACTIVITY

STABILITY

Stable under normal conditions

INCOMPATIBILITIES

Strong oxidizing agents

POLYMERIZATION

NFPA RATING

Health: 0; Flammability: 0; Instability: 0;

TOXICOLOGICAL
POTENTIAL HEALTH EFFECTS

HAZARD OVERVIEW

Not known hazards

EYE

May cause eye irritation.

SKIN

May be harmful if absorbed through skin. May cause skin irritation.

INGESTION

May cause irritation of the digestive tract.

INHALATION

May be harmful if inhaled. May cause respiratory tract irritation.

TARGET ORGANS

No data found.
TRANSPORT & REGULATORY INFORMATION

UN NO.

Not regulated

HAZARD CLASS

PACKING GROUP

HAZARD SYMBOL

RISK PHRASES

SAFETY PHRASES
SALES SPECIFICATION

APPEARANCE

yellow to green powder

IDENTIFICATION

pass Test (IR)

ASSAY

80%, 90%, 95%, 98% min (HPLC)

ASH

0.5% max

RESIDUE ON IGNITION

1.0% max

PESTICIDE RESIDUE

1ppm max

MICROBIOLOGICAL TEST

Aerobic Plate Count: 1000 organisms/g max
E. coli,: negative
Salmonella: negative
Total Mold/Yeast: 100 cfu/g max

HEAVY METALS

10ppm max