PONCEAU S
Synonyms. Ponceau S; C.I. Acid Red 112 tetrasodium salt; Tetrasodium 3-hydroxy-4-(2-sulphonato-4- (4-sulphonatophenylazo) phenylazo) naphthalene- 2,7-disulphonate; 2-Hydroxy-1-((4((4-sulfophenyl )azo)-2-sulfophenyl) azo)naphthalene-3,6-disulfonic acid tetrasodium salt; C.I. 27195; C.I. Acid Red 112; Ponceau Red S; 3-Hydroxy-4-[2-sulfo-4-(4-sulfophenylazo)phenylazo]-2,7-naphthalenedisulfonic acid tetrasodium salt;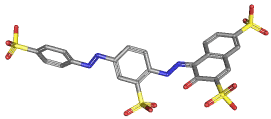 PRODUCT IDENTIFICATION

CAS RN

6226-79-5

EINECS RN

228-319-2

FORMULA

C22H12N4Na4O13S4

MOLE WEIGHT

760.57

H.S CODE

3204.19.4000

SMILES

c12c(cc(S(=O)(=O)[O-])c(c1\N=N\c1c(ccc(c1)\N=N\c1ccc(S(=O)(=O)[ O-]) cc1)S(=O) (=O)[O-])O)cc(S(=O)(=O)[O-])cc2.[Na+].[Na+].[Na+].[Na+]

CLASSIFICATION

Stain, Azo dye, Protein stub, Coloring Agent

EXTRA NOTES

Ponceau S, Acid Red 112, or C.I. 27195 is a sodium salt of a diazo dye that may be used to prepare a stain for rapid reversible detection of protein bands on nitrocellulose or PVDF membranes (Western blotting), as well as on cellulose acetate membranes.
PHYSICAL AND CHEMICAL PROPERTIES

PHYSICAL STATE.

dark brown to dark red powder

MELTING POINT

2

BOILING POINT

DENSITY

SOLUBILITY IN WATER

10 g/l

SOLVENT SOLUBILITY

Insoluble in ether

VAPOR DENSITY

log P(octanol-water)

1

VAPOR PRESSURE

AUTOIGNITION TEMP

pK

REFRACTIVE INDEX

FLASH POINT
STABILITY AND REACTIVITY
STABILITY

Stable under normal conditions.

INCOMPATIBLE MATERIALS

Strong oxidizing agents

POLYMERIZATION

Has not been reported

NFPA RATINGS

Health: 0, Flammability: 0, Reactivity: 0
SALES SPECIFICATION

APPEARANCE

dark brown to dark red powder

CONTENT

85% min

LOSS ON DRYING

10% max
TRANSPORT & REGULATORY INFORMATION

UN NO.

HAZARD CLASS

PACKING GROUP
SAFETY INFORMATION

HAZARD OVERVIEW

May cause respiratory irritation. Causes skin irritation. Causes serious eye irritation

SIGNAL WORD

Warning

PICTOGRAMS

HAZARD STATEMENTS

H315-H319-H335

P STATEMENTS

P261-P305 + P351 + P338

EC DIRECTIVES

HAZARD CODES

RISK PHRASES

36/37/38

SAFETY PHRASES

26-37/39
PACKING
Preserve in light-resistant and well-closed containers